Testosterone Muscle!
How to Build Muscle, Fast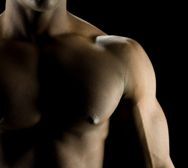 Testosterone and muscle are like steak and potatoes…you'll RARELY find one without the other.
There's just something special about the Mighty T that makes muscle show up on a mans body.
The funny thing is, even without exercise, muscle mass will increase when T levels are high, due to this hormones powerful anabolic powers.
That being said, when your levels are dialed in, you WILL exercise, not because you have to, but because you WANT to.
That's why I suggest putting ALL your focus on Maximizing Testosterone!
Do this, and that muscle so critical to a mans well being, is going to accumulate on your body so fast, you won't know what hit you.
Testosterone Muscle
Remember, testosterone is the fuel that makes you a man!
If your levels are low I guarantee you, you will lose muscle mass, and you will suffer the physical consequences of that loss.
Get them back up, and you'll maintain your muscle, and your health, for life.
Read the articles below to get started!

Testosterone Muscle Building! Boost your T & Get Big Fast!

Maintain optimal testosterone levels, and it's going to be easy to put on muscle. As a matter of fact, when you're having a high T day, you'll notice a mild pump even..

Testosterone Fat Loss! How T Helps You Burn Bodyfat!

Once you get your testosterone levels up into the Normal Range you'll find that losing body fat becomes very easy.
As a matter of fact, you won't even have to make that much of a conscious effort, it will just happen.
Some new research coming out of Ghent University Hospital in Belgium explains why.

Pills Muscle! Take These to Get Big!

Here's a simple and effective supplement program you can use to pack on the muscle without the use of steroids.
This stuff is all over the counter, not that expensive, and very effective. Use some commons sense, and you'll avoid any unwanted side effects...

Testosterone Bodybuilding! You can't build muscles without T!

I found an article in my inbox this morning from a bodybuilding guru. His recommendations were so bad, and so full of stupidity, I actually found myself laughing out loud...

Testosterone Exercise

The old school advice is wrong!
Aerobic exercise eats up muscle...
It also sucks the male hormones right out of you.
If you want a strong, muscular body, with plenty of testosterone running through your veins, you need to stop listening to the so called experts.
Remember, these are the same guys that told you that rice cakes and tofu were health foods.
That long, slow, boring exercise is what gets it done.

DHEA Muscle! Does DHEA Help Build Muscle?

DHEA levels decline by approximately 80% between the ages of 25 and 75.
Since DHEA is a mere two steps away from testosterone, it would seem that boosting levels back up to normal would help with muscle building and strength.
Unfortunately, that doesn't seem to be the case for most men.

Testosterone Weight Lifting! How T Can Make You Grow Fast!

A strenuous squat routine, using heavy weight is going to be much more effective at boosting T and building muscle than doing 150 reps on a leg curl on a machine.
Remember...
Multi joint exercises and heavy weights will trump isolated exercises and light weight every time.

Production Testosterone!

You don't need doctors, drugs, injections, patches, creams, or gels. Follow the link above to learn how to boost your testosterone levels naturally!
---
What Other Visitors Have Said
Click below to see contributions from other visitors to this page...




Testosterone Muscle to TESTOSTERONE SUPPLEMENT REVIEWS

Jump to EXERCISE TO LOWER BLOOD PRESSURE

Jump to LOW TESTOSTERONE-HOME