Testosterone For Women! Balance Female Hormones Naturally
by Jim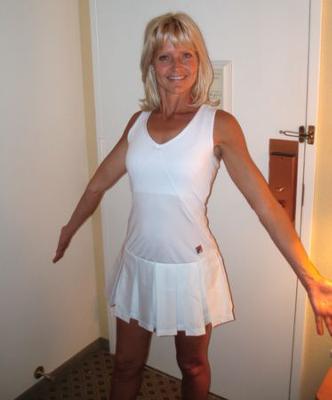 Testosterone For Women!
Balance Female Hormones Naturally
Hi Mark,
I don't see any information for women on your site, but girls need testosterone too, right?
My live in girlfriend has gone from thin and sexually active, to overweight and completely uninterested in having sex with me.
Do your methods work on women too?
Hi Jim,
Take a look above at the picture of my wife, taken last month in Palm Springs Ca.
She's going to get ticked off if she reads this, but I'm going to tell you anyway....
She was born in 1964.
You can do the math yourself, but the bottom line is, she's not a kid anymore.
If you look closely, you'll see she has the body of a teenager, not a middle aged woman.
And by the way, this pic was taken after she'd played 90 minutes of tennis in the hot sun,
And...
She's not wearing a stitch of makeup, aside from a touch of lip gloss.
Not bad for a woman who, by most standards, should be over the hill.
You asked if my methods would work for women, and my answer to you is...
Take a look at the pic!
The reason she still has a killer body is, because her and I do
killer exercise routines
together.
You may want to consider doing the same with your woman.
Let me ask you this...
How would you like it if, tomorrow, you and your girl could
boost growth hormone levels
by 4 or 500 percent,
And even better...
Bring back that sex drive that's been missing in your life?
If that sounds like something you might be interested in, then try this..
Take her to a big grassy field somewhere,
slap her on the butt, and tell her to run like hell.
When she gets about 8 steps out, take off, and do everything you can to run her down.
After 100 yards or so, stop...breath for a while...then repeat the process a total of 8 times.
Do this twice a week.
(Start off very slowly and work up to this, to avoid the risk of injury.)
When you get home, head into your kitchen...
Grab the Twinkies, Doritos, Coca Cola, and Sugar Frosted Flakes, and throw them all in the trash can.
Then head straight to the store, and buy
These Foods.
Next...
Go out and buy her a set of dumbbells...
Not the big stuff, unless you've got a thing against the female form.
In my opinion, when it comes women, toned and shaped wins out every time over big and muscular.
Once you've got the equipment on hand, teach her how to do a light, whole body, workout.
She's going to do this twice a week as well.
Next...Supplements!
Yup, women need hormone
supplements
sometimes, just like men do.
But things get more complicated, due to the monthly hormonal swings they experience around period time.
With men, the target is pretty stable, but in women it's constantly moving.
To make these supplements work, you'll have to test things out for a few weeks. After a while, you'll discover exactly what works for her, and when.
I've provided a bit of detail on each supplement to help you along the way...
Maca Root
An excellent hormone balancer, that can work wonders around period time.
It can also help women going through perimenopause or even full blown menopause.
If she irritable, bitchy, or uptight, give her two caps, plenty of space, and about 90 minutes for the effects to kick in.
Rhodiola Rosea
During period time, it's either one or the other for most women...
Highly irritable, or sad, depressed, and weepy.
During the sad and weepy stage, Rhodiola can work wonders.
Macuna Pruriens
When she has no energy, is feeling tired, fatigued, and can't seem to get moving, pull out the Macuna.
Ashwagandha
The herb you can use anytime, as it won't disrupt sleep at all.
Not to be used on days of fatigue and lethargy, as it has a strong calming effect.
Better suited for those irritable, agitated times, when she needs to slow down her mind.
Tribulus Terrestris
This herb doesn't help much around period time. As a matter of fact, it can make symptoms worse.
Use this herb between periods to increase sex drive when she's feeling low.
Passion Rx
An excellent product that works just as well for women as it does for men.
Just make sure you buy the version without yohimbe, as women don't do well on this herb.
My recommendation is, pull out the RX once a week, when the two of you know you're going to have sex.
Try to give it to her about 2 hours ahead of time.
Finally...
If money is an issue, and you can only afford a couple of supplements, I'd recommend Passion Rx, and Maca Root.
The Rx will help with the sex drive, and the Maca will work to balance her hormones during her period.
Just don't forget to
Cycle!
---
Testosterone For Women Balance
Female Hormones Naturally to Low T-Home