I'm Injecting Testosterone & My Testicles Have Shrunk!
by Rob
(USA)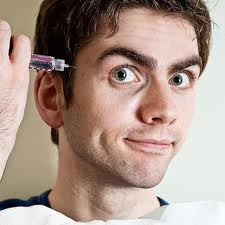 ---
I'm Injecting Testosterone & My Testicles Have Shrunk!
Hi,
I have been looking for info on this for a while now.
My Doctor seems to avoid the subject or just gives me very little to go on whenever I ask her.
For six years I have been on testosterone Injections, and in the last year and a half my
Testicles
have shrunk by half.
They used to be fairly large and hung low, but now the sack hangs low and the balls are small and only hang half way down and it looks bad.
I'm 47 years old and I don't produce much testosterone of my own.
Is there any help?
Thanks!
I'm Injecting Testosterone & My Testicles Have Shrunk!
Hi Rob,
You doctor avoids the subject because writing hormone prescriptions is easy.
Getting to the root of a problem and fixing it isn't.
The fact that she's
sacrificing your testicles
doesn't concern her too much, as long as the numbers on the lab report are heading in the right direction.
That being said, push the atrophy issue hard enough, and I'm sure she'll come to the rescue once again.
This time she'll most likely write out a script for Human Chorionic Gonadotropin, or HCG.
HCG will bring your testicles back up to speed again, but...
It will also deliver many of the same side effects that
Testosterone Replacement
will, including out of control estrogen levels.
Of course, there's a solution to this problem as well, and it goes by the name of Arimidex.
Arimidex acts as an aromatase inhibitor, which slows the conversion of testosterone to estrogen in your system.
Problem is, this drug comes along with side effects too, including hair loss, mood disorders, headaches, bone pain, and low sex drive.
Yup, you heard me right, low sex drive, the very condition we're attempting to treat here may come screaming back again.
This happens because estrogen is a critical component in the hormonal mix needed to bring on strong libido and sex drive.
If Arimidex sends levels too low, the sex drive goes out the window.
Then what?
More HCG, less Armidex, more testosterone, or a combination of all the above?
Sounds confusing, doesn't it?
Well, I hear from men all over the country who are on the above combination, and it is confusing.
As a matter of fact most men who've fallen into this pit, are more moody, more hormonally whacked than just about any post menopausal woman out there.
I'm Injecting Testosterone & My Testicles Have Shrunk!
I can't give out medical advice, because I'm not a doctor, but I can tell you what I'd do if I were in your shoes.
First...
I'd work with my doctor to get off the juice.
Then I'd take steps to bring my testicles back to life, so they'd begin producing testosterone once again, just as they were designed to do.
Here's how...
Cycle OTC Testosterone Boosters
Wear a Ball Zinger Penis Ring
Practice Orgasm without Ejaculation
Build Muscle-Burn Body Fat
Switch to a Testosterone Boosting Diet
---
I'm Injecting Testosterone & My Testicles Have Shrunk
to Boost Your Low Testosterone Levels-Home