Vitrix Reviews!
Benefits & Side Effects!
Vitrix Reviews!
Benefits & Side Effects!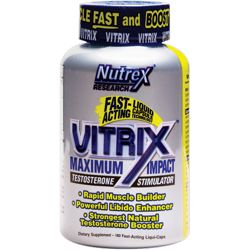 Read About our 7 Favorite OTC Testosterone Boosters
Vitrix is a very potent tribulus supplement which contains 1000mg of liquid German tribulus.
It also includes a 500mg dose of what the manufacturer calls NTS-5.
In essence, this is simply a propriety blend of Agnus Castus, Avena Sativa, Epimedium (horny goat weed), and Eurycoma Longifolia Jack, otherwise known as Tongkat Ali.
I've taken this supplement on 3 separate occasions and have to say, it is extremely potent.
Potent despite the fact that it contains Agnus Castus, (Chasteberry), an herb I would personally never add to a herbal testosterone product.
Check Pricing & Availability Here
The idea behind the product is the Tribulus, Goat Weed, and Tongkat work to boost male hormone levels, while the Chastberry and Avena Sativa work to keep estrogen levels in check.
The plan seems to be working, as I experienced a substantial increase in sex drive, energy and motivation while on the product.
All without any negative estrogen like side effects.
In other words, no bloating, breast tenderness, of difficulty getting the urine stream started at night, which are all signs of elevated E levels.
But there is a downside to this product!
---
If you're a regular here, you already know whats coming next, so feel free to skip down the page.
---
The product contains 3 separate sex boosting herbs.
Why is this a problem?
Because it's absolutely critical that you cycle each of your testosterone boosters on a daily basis.
Fail to do so, and your body will quickly build up a tolerance, and the supplement will stop working entirely.
Think about it...
How many times have you taken a testosterone booster and felt great the very first time you used it?
But on the next dose, somehow the magic disappeared?
This happened because you failed to cycle your products.
Since Vitrix contains Tribulus, Tongkat and Goat Weed all in one capsule, cycling becomes more difficult.
Not impossible, as those who use Passion RX already know, but much more complicated.
Click here to read more about cycling testosterone boosters
The bottom line!
This is high quality and very potent tribulus supplement.
Cycle it properly, and avoid the temptation to take it every day of the week, and it will deliver the goods you're looking for.
Fail to cycle this supplement, and you'll just be wasting your time and your money.
Check Pricing & Availability Here
---


Vitrix Reviews to Testosterone Supplement Reviews

Vitrix Reviews to Low Testosterone Levels-Home

Consult with a medical professional before acting on any of the advice found on this website. My statements and opinions have not been evaluated by the Food and Drug Administration. Supplements recommended on this site are not intended to diagnose, treat, cure or prevent any disease.