Stress Has Killed My Sex Life! Please Help
by Brad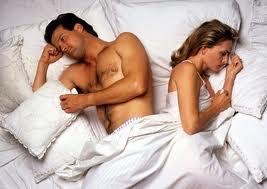 ---
Stress Has Killed My Sex Life! Please Help
Hi Mark,
I have a very high stress job that forces me to travel constantly, so getting in exercise, or eating healthy food is next to impossible.
Have you ever tried to get decent food at the airport or a hotel bar without paying a fortune?
It's next to impossible, trust me.
I'm stressed out ALL the time, borderline obese, out of shape, and very unhappy.
All of this negative crap has killed my
sex life.
I can barely perform now, and even if I could, my wife isn't interested anyway.
I don't blame her in the slightest because I look like S*#%T right now!!!
Please help me!!!!!!!!!!
Stress Has Killed My Sex Life! Please Help
Hello Brad,
Stress or no stress, you've got to do the basics.
That means you pay the fortune for the good food you talked about earlier, or you pack your own if that's not possible.
At night, you skip the bar, and the late night TV, and you go to bed at a decent hour.
When you wake up, you hit that gym found inside your hotel, or you take a walk outdoors in the sunshine.
These are small, easy to apply tweaks that will have a major impact on your life.
You're in a dark place right now, so I know you've already come up with several reasons why you CAN"T pull this stuff off.
But you and I both know your excuses don't hold water, right?
Here's the bottom line...
If you want to stop looking like S*#%T, and start feeling good about yourself again, you need to change the way you're doing things now.
And change for you means exercising your body, then fueling that body with the proper foods.
Fail to cover these two items, and you lose out...
Lose out on health, sex, women, confidence, energy, drive, and overall happiness in life.
You'll also lose out on all the good stuff found on this website.
Why?
Because a borderline obese man will not respond to the
Natural Testosterone Boosters
.
Same goes with edging, ejaculation control, the ball zinger, etc, etc...
Remember...
These items will push a healthy body towards increased hormone production, elevated sex drive, and
stronger erections.
What they won't do is take a broken, unhealthy, obese body, and return it to normal without any effort on your part.
That effort has to come from you!
And no, you don't need to be an 8 percent body fat fitness model to make all of this work.
All you need to do is start heading in the right direction, slow the speeding train, stop the rapid self destruction.
So where should you start?
Simple...
lose that first 10 pounds!
Once you've achieved this goal, get back to me and we'll talk some more.
Good luck!
Return Home