No Sex Drive! A Curse Worse Than Death Itself!
by Chris
(USA)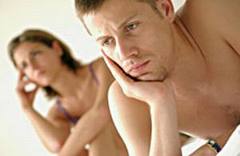 ---
No Sex Drive! A Curse Worse Than Death Itself!
Hi Mark,
Just some quick feedback that your
supplement regime
and the blakoe ring seem to work.
I started the
7-day cycle
a few weeks ago and also purchased a Blakoe Ring...
One Silver-Zinc recommended on your site, and one classic Zinc-Copper one.
It seems to me the latter device -while being more bulky- works better for me.
Anyway, I am pleased with the results and now know that my low level of T and abnormally low DHEA, both of which did not elicit any concern at all from the urologist, were to blame.
With your supplements and the
Penis Ring
my energy, mood and love life have improved remarkably.
Whereas I had become anxious about the "chore" of intimacy, I now look forward to it and once again enjoy it as the wonderful thing that it is.
No Sex Drive!
A Curse Worse Than Death Itself
Hello Chris,
Thanks for the feedback, much appreciated!
I know exactly what you mean by the "Chore of Intimacy", and I can tell you right now...
When the desire and motivation to have sex disappears, life isn't worth living anymore!
Why?
Because when
sex drive disappears,
the motivation to do anything meaningful or interesting with your life disappears right along with it.
Your urologist may call this a "normal part of aging", but I'm not buying it!
I call it a slow, painful, agonizing death!
A death that can be completely avoided, if you're smart enough to get up and take action.
That's exactly what you did Chris, and now you're reaping the rewards you deserve.
Thanks again for your feedback, and keep up the good work!
No Sex Drive A Curse Worse Than Death Itself
to Boost Your Low Testosterone Levels-Home
---