Natural Male Cosmetics
How to Avoid Hormone Disrupting Chemicals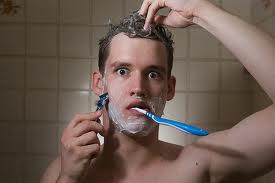 Natural Male Cosmetics!
How to Avoid Hormone Disrupting Chemicals
Hi Mark,
I don't think I've seen you address this before.
What can we use to replace our toxic cologne and deodorant?
I haven't been dating for a long time, and haven't worn cologne either.
Due to your excellent information here, I've started dating again since you and your T-Boosting Herbs got my testosterone up from 280.
I got rid of my toxic deodorant and started using a crystal deodorant.
So I have no masculine fragrance, unless I go out and run a few blocks-which doesn't go over well in the clubs.
Is there such a thing as natural cologne, or a natural deodorant with a good smell?
Natural Male Cosmetics
Hello Eric,
Medications applied topically, directly onto the skin, are 95 percent more effective than those taken orally.
This occurs because topically applied drugs bypass digestion and processing by the liver.
As a result, topical meds head straight from your skin, directly into your blood stream.
Cosmetics applied to your skin are no different!
The day I discovered this juicy piece of information, was the same day I dumped around 75 dollars worth of male cosmetics into the trash can.
My rule now is, if I wont eat it, I won't put it onto my skin!
I hold fast to this rule because I know for a fact that many of the chemicals used in cosmetics, act as powerful estrogen mimics.
So back in the day, when I was spraying Right Guard under my arms, rubbing Armani onto my chest, and lathering up with Irish Spring, I was flooding my system with man killing chemicals.
Chemicals such as…
Petroleum Based Fragrance
Parabens, Strong Estrogen Mimics
Toluene, a Reproductive System Toxin
Triclosan, a Potent Endocrine Disruptor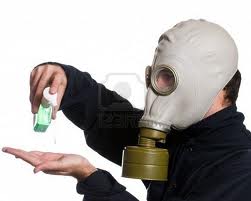 And what about those aluminum based antiperspirants?
I'm sure you're already aware of the brain toxicity and Alzheimer's risk, but that's not all you need to be worried about..
Philippa Darbre, PhD, a cancer researcher out of University of Reading, found that aluminum-based antiperspirants mimic estrogen as well.
Now here's the kicker…I've BARELY scratched the surface here!
I could easily write another 10,000 words on the toxic ingredients found in common, everyday male cosmetics.
Items that wreak havoc on your endocrine system, and mimic estrogen in your body.
The same estrogen mimic's that directly assault your testicles, leading to testicular atrophy, decreased sperm count, and reduced ejaculation volume.
Natural Male Cosmetics!
How to Avoid Hormone Disrupting Chemicals
So now that we've clearly outlined the problem, let's move onto solutions…
First off, there are natural alternatives to most male cosmetic products, but you need to be aware…you are going to pay more for these items.
The pain can be diminished substantially if you avoid paying retail and shop online.
I buy ALL of my products on amazon.com now, which runs anywhere between 30 and 50 percent off typical retail prices.
This discount is even higher if you normally shop at Whole Foods, a company who seems to have no problems marking up products 400 percent or more.
Here's a list of products used in my household now…
Egyptian Magic All Purpose Skin Cream (A Lotion Alternative)
Here's the ingredient list…
Olive oil, beeswax, honey, pollen, royal jelly and propolis extract.
If there were a famine here in the US, I could literally eat this stuff.
Same goes for my sunblock, Badger All Natural Sunscreen, which is made with with Zinc, Extra Virgin Olive, Beeswax, Cocoa Butter, Shea Butter, and a few other natural ingredients.
And for soap, I use Olivella Face and Body Soap, made with...you guessed it 100 percent olive oil.
My Deodorant of choice is Jason Fragrance Free Deodorant Stick, made with 100 percent natural ingredients as well.
The shampoo I use is California Baby Super Sensitive Shampoo & Bodywash.
This is the ONLY shampoo I've been able to find that is made with 100% clean and safe ingredients. It's a baby shampoo, but I could care less.
The toothpaste I use is, Nature's Gate Natural Toothpaste.
No fluoride, foaming agents, dyes, paraben's or other toxic chemicals.
And that good smell you're looking for?
Burt's Bee's makes a product called Natural Men's Cologne, which I haven't tried myself.
If you decide to check it out, let me know how it works out for you.
That's it for now...
Thanks for your questions…I've been meaning to address this issue for months, and you spurred me on to do it.

Jump to Natural Testosterone Boosters
---


Male Cosmetics to Symptoms of Andropause

Male Cosmetics to Low Testosterone - Home
References
Aluminium, antiperspirants and breast cancer
Hormones And Vitamins In Cosmetics
Underarm cosmetics and breast cancer