Erectile Dysfunction Pumps!
Male Vacuum Penis Pump!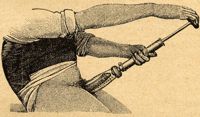 We're going to discuss erectile dysfunction pumps on this page. And what is an erectile vacuum pump?
A vacuum pump is made up of a plastic cylinder that is placed over the penis, tension rings and a pump, either battery, electric, or hand operated.
How do you use an erectile dysfunction vacuum pump?
You place the cylinder over the penis.
Then, you use the pump to create a vacuum inside the cylinder. This vacuum causes the penis to be engorged with blood, which creates an erection.
The tension rings are then placed around the base of the penis to help maintain the erection.
What are the advantages of using a male vacuum penis pump?
The treatment is completely natural
Can be combined with other treatments such as testosterone boosting supplements
It's affordable. After the initial cost, there are no other expenses
What are the disadvantages of using a penis pump for erectile dysfunction?
Makes having spontaneous sex difficult.
The tension ring can make it difficult for the semen to ejaculate normally. Some manufactures have devised special rings with gaps to prevent this.
Since the erection starts at the spot where the tension ring is placed, the penis may pivot at the base.
A few more thoughts on ED pumps
Like all ED aids, pumps have good points and bad points.
Men most satisfied with this solution are typically over the age of 50, and in monogamous relationships.
Best results are obtained when pumping is combined with high quality
T Boosting Supplements. and an Erectile Dysfunction Penis Ring.
---

Erectile Dysfunction Pumps to PENIS DYSFUNCTION

Jump to the BOOST YOUR LOW TESTOSTERONE HOMEPAGE