Cell Phone Radiation! Male Hormones & EMF Exposure!
by Chris
(USA)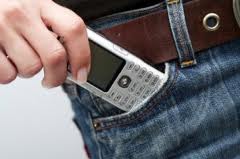 ---
Cell Phone Radiation! Male Hormones & EMF Exposure!
Hi Mark,
In the spirit of contributing to the increase of knowledge in your excellent website, I have an interesting observation to share with the readers of your blog.
After skimming Tim Ferriss' new book "The 4 hour body" I saw his recommendation to stop carrying your cell phone in your front pant pocket.
Hmmm, I thought to myself...
I had to admit that my limp libido and other
testosterone problems
really went into high gear around the time I started carrying my cell phone in my left front pant pocket.
Maybe it's a coincidence, but I stopped this practice and have since noticed a definite (and fast) change for the better in my low-T symptoms.
Not as dramatic as from wearing the
Blakoe Ring,
but definitely noticeable.
My experience may not generalize to other men, but it's a very easy thing to try.
Cell Phone Radiation!
Male Hormones & EMF Exposure
Hi Chris,
Charles Graham, a highly respected research physiologist, claims outright that cell phone radiation decreases testosterone levels in men.
He also says that electromagnetic radiation in the body acts as a "Disturbance Hormone" more powerful than many
chemical pollutants
and estrogen mimics in the environment.
Ashok Agarwal, the Director of the Center for Reproductive Medicine at the Cleveland Clinic came up with this beauty....
In his study, he found that men who keep active cell phones in their pants pocket, increase free radical production and oxidative stress in the groin area by 85%.
Another study found that men who use their mobile phones several hours a day have 25% lower sperm counts than men without the cell phone habit.
Electro-pollution from EMFs, cell phones and wireless technology have also been linked to cancer, miscarriage, birth defects, heart arrhythmia, autism, learning disabilities, and Alzheimer's Disease.
I'll admit, these studies do have their critics, but I'm not taking any chances.
Cell Phone Radiation!
Male Hormones & EMF Exposure
Here's are some steps I've taken to lessen my exposure to electromagnetic radiation.
My wireless devices NEVER go anywhere near my groin area.


I text instead of talk whenever possible.


I always keep my cell phone in airplane mode when not in use.


I use my phone with the speaker on and keep it as far away from my head as possible.


All electronic devices in my home are shut down cold while I'm sleeping.


I keep my wireless router in the house unplugged at all times unless I'm using it.


I threw my wife's Bluetooth headset in the trash. (She still hasn't gotten over that one!)


I leave my mobile phone at home regularly, and have avoided the temptation to spend half my life staring at a small, lifeless electronic box.
The bottom line?
You'll never avoid electromagnetic radiation entirely, but you can reduce your exposure.
Remember, no one said it was going to be easy to hang onto your hormones in this modern world of ours.
If you want to keep your levels maximized, you ARE going to have to play a little defense along the way.
Offense, as in muscle building, edging, and hormone
supplements
are definitely more exciting.
But...the defense you play is every bit as important.
Thanks for your feedback Chris, I appreciate it!
---
Cell Phone Radiation Male Hormones
& EMF Exposure to Low-Testosterone Home
References:
Effects of Electropollution On Hormones
Cell phone usage and semen analysis in men