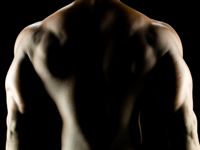 So This Beautiful Babe Walks Into A Bar...
I was in a bar with some friends a few days ago, watching the Lakers get beat up by the Mavericks, when a woman walked in.
She was about 35, and I'll tell you, she was VERY attractive.
She entered the front door, walked up to the bar, ordered a drink, then started looking around the room.
After glancing around the place for a minute, she dialed in on my buddy Frank, and headed straight for our table.
Hmmm...things were getting very interesting all of a sudden.
She plopped down into the chair next to Frank, and said, Hi!
Frank is a personal trainer, buff, but not stupid big, handsome, friendly, and REALLY outgoing.
But when this girl hit our table, his outgoing personality went out the window, real fast.
In other words, for a while there, our buddy Frank was totally speechless!
We all cracked up, because you can never get Frank to shut his mouth, but this girl had accomplished the task in an instant.
The two never really hit it off, but she stayed at our table anyway, bantering back and forth with all 5 of us throughout the game.
Now, most of you know by now that I'm pretty tight when it comes to alcohol.
A binge can set you back hormonally for a week or more, so I make it a point to never get stupid drunk.
But that didn't stop every one else!
By the time the 4th quarter rolled around, we had a table full of VERY happy people.
This particular game was a 12 point blowout, and pretty boring towards the end, so I started chatting up the girl.
The alcohol was performing it's magic on her in beautiful fashion, so she was extremely loose, to say the least.
So loose in fact, that I was blown away by what came out of her mouth over the next 20 minutes.
Turns out this supposedly single girl was actually a married woman!
7 years into the contract, and extremely unhappy with her situation...
So unhappy in fact, that she was hanging around in a bar, with a group of complete strangers, and all of them were men.
Not the type of situation I'd want my wife to be in, now way, no how!
When I asked her why she was here, alone and without her husband, she was extremely blunt.
He's fat, boring, and I can barely stand him any longer....oh yeah, and our our sex life totally sucks.
Alcohol can be a very funny thing.
As the owner of a men's hormonal website, I had to ask a few more questions after she fired off these factoids.
Here's roughly how our conversation went...
Me: Was he always boring?
Her: No, when we first met, he was a real fun guy.
Me: Was the sex always bad, or did that happen later?
Her: No, the sex was great in the beginning.
Me: Was he always fat?
Her: No, he started gaining weight about 3 years ago.
Me: Was that when the boredom and bad sex kicked in?
Her: Yes
Me: How old is he now?
Her: 41
Me: OK, I understand
I've never met her husband, but I know exactly what's happening inside his body, because all of these things happened to me.
I put on weight...which caused my estrogen levels to climb....which pushed my testosterone levels down....which blunted my motivation, and killed off my sex drive.
And it all happened right around my 40th birthday.
Coincidence? I think not!
I gave her a business card with my email address, and told her to have her husband get in touch.
She barely looked at it as she tossed it into her purse.
Unfortunately, her husband will probably never even see that card.
Why?
Because it was clear from her behavior that this marriage was over, dust, kaput!
Her man let things get way out of hand...he's settled, gone soft, and has failed to do anything about the situation.
But she's still fit, active, and young in mind and in body...and now, she's out shopping, looking to replace her "old man".
And based on her looks, I have a strong feeling it ain't going to take long.
This poor guy probably doesn't have a clue what's going on right now, but I can guarantee you, he's in for a world of hurt in the coming weeks.
And his one and only mistake?
It took him too long to get fed up...
Too long to get tired of the soft erections, the lack of sex drive, the lost motivation, and the soft, weak, unproductive testicles.
But as you and I both know, that day is definitely coming.
Unfortunately, not soon enough for the poor boy to save his marriage.
So what exactly is the take home message here?
When the inevitable hormonal decline kicks in, don't fall asleep at the wheel.
Get up and do something about it!
Jump to a Simple Method to Increase Productivity & Sex Drive